Text
83 Damn Good Movies: 1954 On the Waterfront
On the Waterfront (1954)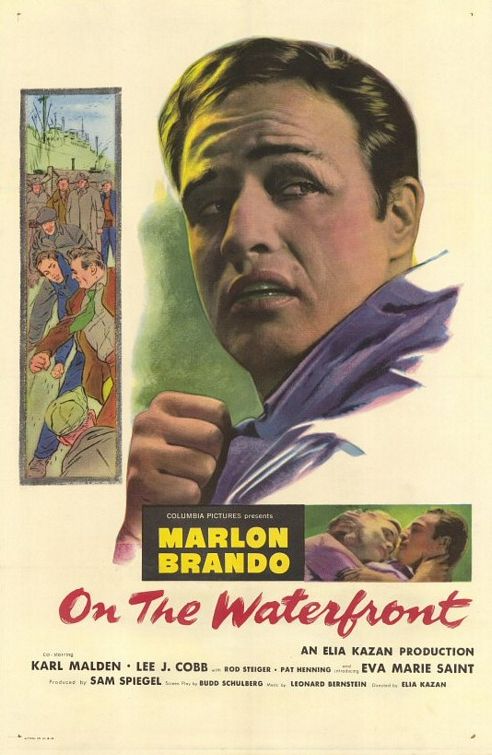 I'll tell you something about this movie poster: it's one of the worst I've seen. Nothing about this poster, save for maybe the facial expression on Brando, fits the mood of the picture. The film is dark, gritty, has a noir feel…this poster is pastels and cheesy fonts. 
But anyway, about the movie specifically: it's damn good. If you want to watch a Marlon Brando picture and The Godfather isn't for you…who the hell are you? That movie is amazing what the hell is wrong with you? I mean, watch On the Waterfront.
The film follows Terry Malloy (Marlon Brando) as he navigates the mob-controlled waterfront. He has in with the mob boss Johnny Friendly (Lee J. Cobb) through his brother Charley (Rod Steiger), but he's uncomfortable about the mob's shady cover-up killings, especially when he meets one of the victim's sisters, Edie (Eva Marie Saint). And then shit hits the fan.
The film is shot beautifully. The black and white, in combination with the lighting, deepens the shadows and enhances the light of the shots which makes for a beautiful effect. This is a movie in which each and every shot achieves an artistic and meaningful effect on the film; nothing is left to randomness or chance. Great care was taken to construct these sequences: where and how the camera moves, the blocking, the mise en scene. And Marlon Brando's acting is just superb; it elevates this movie from typical mobster noir to art. In him, more than most actors I can name, you get to see the true duality of characters. Terry does not act the same way he does around the lovely Edie as he does around his mob bosses, and it's not just a superficial change. Everything right down to his facial expressions and body language adapts to the scene, the characters around him, and the tone conveyed. He's a brilliant actor, and I can't wait to see more of his films.
A final note: I love badass priest characters. Something about the contrast between pious and badass is just totally captivating. And the priest Father Barry (Karl Malden) is one of the best. Watch this movie. 8/10
mandalicious92 likes this
spacebartender posted this